About Three Crickets
---
Three Crickets was founded in Chicago in 2009, based on ideas and products that had been incubating since 2003.
We make good products that work as advertised, and help communities and their individuals make the best use of our products.
Our ethic is practical: we don't take shortcuts, but also don't add cruft; we don't use buzzwords, but we're in touch with the times.
While the internet is sold as a vast "virtual community" spanning the globe, our products are explicitly aimed at the forgotten actual communities that we all belong to: social spaces of real people who work together every day, sharing ideas and resources. When minds meet, wonderful, unforeseen things can happen. We want to help that happen, because we believe that the sum is greater than its parts.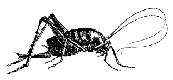 Crickets are lovely animals. They fill the night with their song, reminding us that we're never truly alone. They have been steadfast companions to us in our work, just as we hope to be steadfast companions to you in your work.
Thank you for honoring us with your visit to our site.
In friendship,
Tal Liron
Three Crickets founder and president